Maggie Smith reportedly wants out of Downton Abbey after the third season: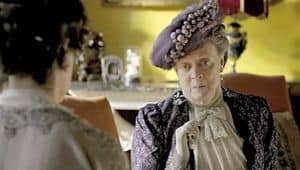 "Maggie has asked Julian to write her character out," the U.K.'s Daily Mail is reporting. "She is filming until August and then wants to leave, going out on a high. She thinks that three (seasons) is enough and she wants to get back to the stage and big screen."
Smith's Dowager Countess, a master of the potent one-line put-down, is one of the show's pivotal characters. The Daily Mail's source says she is likely to be struck down by a fatal illness at the end of the third season, which ITV is currently filming in the U.K.
UPDATE: A Carnival Films rep. denies the report. "We never comment on future story lines but it's not true that she's leaving."