The American Civil Liberties Union today appealed a district-court ruling dismissing the same-sex domestic partnership case, Donaldson and Guggenheim v. State of Montana, to the Montana Supreme Court: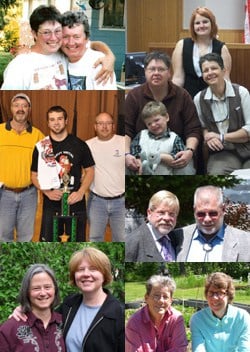 "The Montana Constitution guarantees fair and equal treatment to all people, including gay and lesbian couples," said lead attorney, James Goetz, of the Bozeman, MT, law firm Goetz, Gallik & Baldwin, who is acting as a cooperating attorney. "This case is about giving loving, committed couples the recognition they deserve and ensuring that all families can thrive in Montana. Domestic partnerships are a way for the Montana Constitution's guarantees of human dignity and protection for all people to be upheld for same-sex couples."
Without domestic partnership recognition, the plaintiffs in the case have been denied the ability to take care of each other and their families. Denise Boettcher of Laurel was denied bereavement leave when her partner Kellie Gibson's father died. Mary Leslie of Bozeman lost her home because she was ineligible for worker's compensation death benefits when her partner was killed in an accident. When Mary Anne Guggenheim had a hip replacement, the doctor's office staff would not speak to plaintiff Jan Donaldson, Guggenheim's partner of 29 years, without a release.
Judge Jeffrey Sherlock dismissed the case in April 2011, saying that an amendment to the Montana Constitution that defines marriage as being between a man and a woman had already settled the question, adding that the question of granting gay couples the benefits, without allowing them to get married, was best left to the legislative process. Sherlock also said that a ruling to force state lawmakers to write new laws would be an inappropriate breach of the separation of powers between the three branches of government.
In November, the ACLU said that Sherlock "abdicated his responsibility" in dismissing the case.