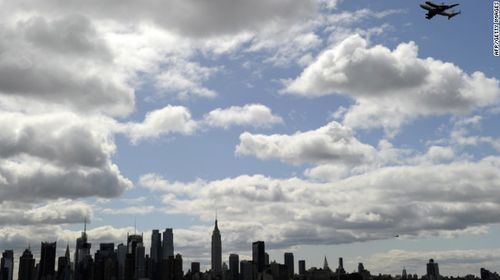 Space Shuttle Enterprise, meet Midtown. 

 Do some Egyptians really want to legalize postmortem intercourse? Now it's unclear:
Alleged proposals to allow Egyptian husbands to legally have sex with their dead wives for up to six hours after their death have been branded a 'complete nonsense'.


The controversial new 'farewell intercourse' law was claimed, in Arab media, to be part of a raft of measures being introduced by the Islamist-dominated parliament.

… The initial report, published on reputable English language website alarabiya.net, claimed Egypt's National Council for Women was reportedly campaigning against the changes.

It said the group said that 'marginalising and undermining the status of women would negatively affect the country's human development'.

Dr Mervat al-Talawi, head of the NCW, wrote to the Egyptian People's Assembly Speaker Dr Saad al-Katatni addressing her concerns.

Egyptian journalist Amro Abdul Samea reported in the al-Ahram newspaper that Talawi complained about the legislations which are being introduced under 'alleged religious interpretations'.

The subject of a husband having sex with his dead wife arose in May 2011 when Moroccan cleric Zamzami Abdul Bari said marriage remains valid even after death.

He also said that women have the right to have sex with her dead husband.

 Clerics join forces to fight marriage equality in Scotland. 

 The Times reiterates: homophobes are gay.
 Priest in porn probe departs parish:
An Irish priest at the center of a gay porn controversy has asked to leave his parish and take sabbatical leave from the priesthood, he said Sunday.

Father Martin McVeigh has admitted he destroyed a memory stick containing "inappropriate imagery" ahead of a church investigation into reports he accidentally showed pictures of naked men to parents of children preparing for their First Holy Communion.

The incident happened at the start of a PowerPoint presentation at a grade school in Pomeroy, County Tyrone, Northern Ireland in March, said the leader of the Catholic Church in Ireland, Cardinal Sean Brady.

Parents said in a statement they were "horrified" by what they saw and called for action to be taken against the priest.

The church reported the incident to police, who said no crime had been committed.

 The Williams Institute investigates "racial" diversity among same-sex couples:
Newly released Census 2010 data, analyzed by the UCLA School of Law's Williams Institute, highlight unique aspects of racial and ethnic diversity within same-sex couples. They are more likely than their different-sex counterparts to be interracial or interethnic, and couples that include a racial or ethnic minority are more likely to be raising children. Fully a third of same-sex couples that include an Hispanic partner are raising children.

"This is our first 2010 glimpse of the racial and ethnic compositions of U.S. households headed by couples, including same-sex couples," said Gary Gates, Williams Distinguished Scholar at UCLA School of Law's Williams Institute. "The new Census data help provide a fuller picture of the diversity within the LGBT community," said Gates

The US Census Bureau recently released the research brief Households and Families: 2010, which includes data on the racial and ethnic compositions of households headed by couples in the United States, including same-sex couples.

 The new, improved Tea Party:
… it isn't the kind of activity that makes the press," Fabretti continued. "I mean, when you put 5,000 people at an event, you know, everybody shows up with their cameras. You have 10 meetings with different legislators on [Capitol] Hill — nobody knows about it."

 The overwhelming whiteness of TV, and what it does to your brain. 

 Some plants possess memory, the ability to communicate, and the ability to respond to communication. The Times wonders if it's still okay to eat them.

 Not only did Barack Obama kill Andrew Breitbart — he murdered murdered his coroner with arsenic! (HT: JoeMyGod.)