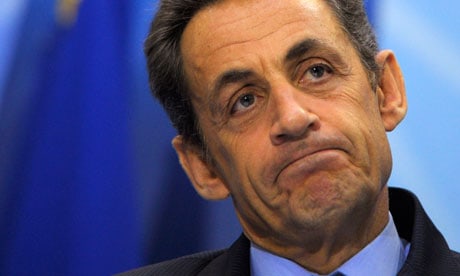 Sarkozy loses to Hollande, and both edge out right-winger Marine Le Pen. France preps for run-off election:
Exit polls also showed Green candidate Eva Joly with 2%, the right-wing eurosceptic Nicolas Dupont-Aignan at 1.8%, far-left candidates Phillippe Poutou and Nathalie Arthaud at 1.2% and 0.7% respectively, and off-beat candidate Jacques Cheminade winning just 0.2%.

A run-off between Sarkozy and Hollande is scheduled on May 6, with opinion polls largely favouring the Socialist Party candidate.

Paris Anding beat Marcellus Andrews to death while screaming anti-gay slurs. Now Anding has been convicted of manslaughter.

iPhone 5 to be cased in "metallic glass."
Robin Gibb emerges from his coma.

This is handy: HuffPo wraps up last week's 17 worst anti-gay moments.

Whoodathunkit? Andrew Breitbart died of plain old heart failure:
The Los Angeles County Coroner's Office reported that the 43-year-old has a negligible amount of alcohol in his system when he collapsed near his Brentwood home on March 1, but no prescription or illicit drugs were found.

Jesus and the lynching tree.

Gay Romney spokesman Richard Grenell busy deleting all his lady-bashing tweets:
ThinkProgress noted Grenell's tendency to make cutting remarks about the appearances of prominent women in media and politics, including his tweet advising MSNBC host Rachel Maddow "to take a breath and put on a necklace," and another suggesting she resembled a Justin Bieber.

In another tweet, Grenell wrote that "Hillary is starting to look liek Madeline [sic] Albright." He discussed First Lady Michelle Obama working out and "sweating on the East Room carpet." He also asked whether Callista Gingrich's "hair snaps on," and on another occasion, commented how Gingrich's third wife "stands there like she is wife #1." Politico flagged more examples and noted Grenell's "old pastime" of "ridiculing the Gingriches."

James Fenton's "For Andrew Wood" makes stirring appearance at the Christopher Hitchens memorial:
What would the dead want from us
Watching from their cave?
Would they have us forever howling?
Would they have us rave
Or disfigure ourselves, or be strangled
Like some ancient emperor's slave?

None of my dead friends were emperors
With such exorbitant tastes
And none of them were so vengeful
As to have all their friends waste
Waste quite away in sorrow
Disfigured and defaced.

I think the dead would want us
To weep for what they have lost.
I think that our luck in continuing
Is what would affect them most.
But time would find them generous
And less self-engrossed.

And time would find them generous
As they used to be
And what else would they want from us
Than an honoured place in our memory,
favourite room, a hallowed chair,
Privilege and celebrity?

And so the dead might cease to grieve
And we might make amends
And there might be a pact between
Dead friends and living friends.
What our dead friends would want from us
Would be such living friends.

AFTER THE JUMP, meet the lovely Maneli Jamal, a self-taught Persian-Canadian guitarist, here playing the equally lovely "Morning In Adanac." (HT: LittleGreenFootballs.)