Buzzfeed seems to think so: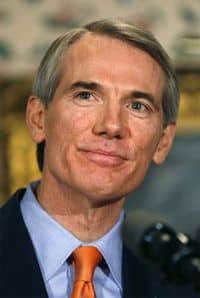 In an informal survey of more than half of the Republican State Chairmen and national committee people at this weekend's State Chairman meeting at a resort here, two-thirds said they believe Portman is the most-likely and best-qualified running-mate for Mitt Romney. The committee members spoke to BuzzFeed only on the condition of anonymity.
"He's from Ohio, and we need to win Ohio, it's that simple," said one state chair.
Portman, a former Congressman from the Cincinnati area who was director of the Office of Management and Budget during the George W. Bush administration, was elected to the U.S. Senate in 2010. And the warmth Republican elites express for him stems much from a desire to avoid another risky, flamboyant pick like Sarah Palin as it does for his ability to help carry an important swing state.
"Romney needs to make a safe pick, and keep talking about the economy — and that's Rob Portman," said one committeewoman from the West.
Portman last appeared here when he spoke at the University of Michigan's commencement, and more than 100 grads walked out over his anti-gay views.