Dr. Robert Spitzer, a psychiatrist who published a controversial 2001 study suggesting that in rare instances gay people could change their sexual orientation, retracted those claims in an American Prospect article published last week. Spitzer had led the effort to declassify homosexuality as a mental illness in 1973, and the 2001 article was an attempt, according to Spitzer, to "question 'whether everything you've been taught is wrong.'"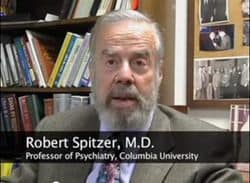 Now, in a letter to Dr. Ken Zucker, Spitzer is apologizing for the wrongs he caused:
I believe I owe the gay community an apology for my study making unproven claims of the efficacy of reparative therapy. I also apologize to any gay person who wasted time and energy undergoing some form of reparative therapy because they believed that I had proven that reparative therapy works with some "highly motivated" individuals.
Read the full letter at Truth Wins Out.