RuPaul hasn't let "lying bitches" spoil this year's Drag Race finale like they did last year, the Daily Beast reports: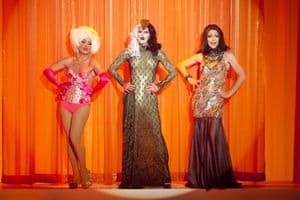 Naturally, audience members and the gaggle of queens (Pork Chop! Yara Sofia!) who filed into the El Portal Theatre last week for the reunion taping had to sign away their firstborns before being allowed inside to witness the coronation. They also had the pleasure of experiencing Ru's magnificent entrance: "Excuse my beauty, bitches." 
But it was all a ruse. Once again, RuPaul had pulled one over on graceful Chad Michaels, spooky Sharon Needles, and spunky Phi Phi O'Hara, giving them the hardest challenge of all. Each was filmed fake-winning, and America's next top drag queen will—finally!—be revealed when the show airs tonight.
In a sickening red gown, gold slingbacks, and matching gold curls, RuPaul took time out to explain the process to the audience. "We are going to film the ending three times so we can protect the integrity, because I know how it is with you lying bitches."
What else will you see?
You will see the underwear-clad Pit Crew models dragging in Willam to face RuPaul and finally explain to viewers why she was the first contestant to be unceremoniously dismissed from Drag Race. Hint: it has nothing to do with barfing and everything to do with sex. Charo makes an appearance to bail out Kenya Michaels. Phi Phi O'Hara addresses the haters, Jiggy Caliente weeps, and Latrice Royale receives five standing ovations and many more catcalls. Is "We love you, Latrice!" the new national anthem?