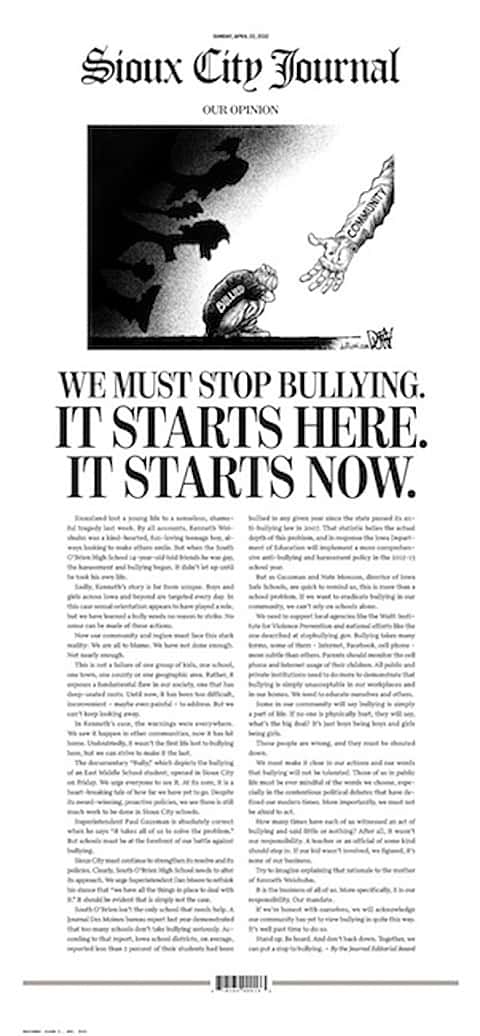 Last week I posted about Kenneth Weishuhn, the gay Iowa high school student who took his life a month after being rejected by friends after coming out of the closet at school.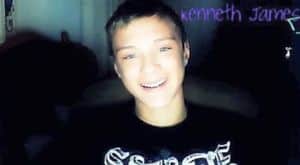 On Sunday, Iowa's Sioux City Journal devoted its entire front page to bullying in reaction to Weishuhn's death, the Press Herald reports:
The Sioux City Journal's front-page opinion piece calls on the community to be pro-active in stopping bullying and urges members to learn more about the problem by seeing the acclaimed new film, "Bully," which documents the harassment of a Sioux City middle school student. It notes that while many students are targeted for being gay, "we have learned a bully needs no reason to strike."
"In Kenneth's case, the warnings were everywhere," the editorial said. "We saw it happen in other communities, now it has hit home. Undoubtedly, it wasn't the first life lost to bullying here, but we can strive to make it the last.
Editor Mitch Pugh said the newspaper has run front-page editorials before but has never devoted the entire page to one.
"A lot of newspapers shy away from putting editorials on the front page, but we feel we have to be a strong advocate for our community," he said. "And if we don't do that, we're not sure who else is."