An art installation by Makode Linde meant to draw attention to the issue of female genital mutilation in Africa is making headlines in Sweden:
The artist, Makode Aj Linde, who created the installation for World Art Day on 15 April, took part in the cake-cutting, with his blackened face and head sticking up next to the cake's stomach and arms. The cakes "insides" were a gruesome red. A video shows him screaming loudly every time a visitor hacks off another slice of the cake. Linde posted photos of the "genital mutilation cake" on his Facebook page. But the images provoked a furious response, with Sweden's African-Swedish Association describing it as "a racist spectacle".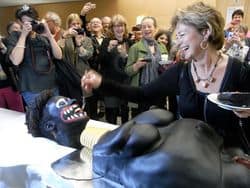 Sweden's Minister of Culture Lena Adelsohn Liljeroth has been called on to resign by Sweden's African-Swedish Association for cutting into the cake:
"Her participation, as she laughs, drinks and eats cake, merely adds to the insult against people who suffer from racist taunts and against women affected by circumcision."
Adelsohn Liljeroth denies she did anything wrong:
"They wanted me to cut the cake." Ultimately, the artist was to blame for any confusion, she said, arguing that the situation had been misinterpreted. "He claims that it challenges a romanticised and exoticised view from the west about something that is really about violence and racism," she said. "Art needs to be provocative."
Watch, AFTER THE JUMP…
(via animal ny)