The NYT makes note of the influence exerted by the White House Social Secretary, who, for the first time, is a gay man, Jeremy Bernard, whose skills as a fundraiser propelled him to the position: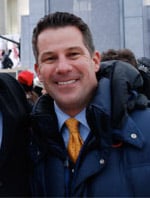 In recent months, the president has turned more and more to gay men and women in search of new veins of large campaign donations, particularly after antagonizing Wall Street, a traditional but now less fruitful source of cash.
Many of the bundlers at the dinner for Mr. Cameron were friends of Mr. Bernard, among them Chad H. Griffin, the incoming president of the Human Rights Campaign, a national gay advocacy group. (Mr. Griffin and his date, Jerome Fallon, got a seat with the Obamas at the head table.) Other bundler friends of Mr. Bernard at the dinner included Dana Perlman, a Los Angeles lawyer who is on the board of the Human Rights Campaign and who brought his husband, Hugh Kinsellagh.
"I doubt he put anybody on that list just because they were friends," said a friend of Mr. Bernard who is an advocate for gay issues in Washington and who asked not to be identified talking about what he considered the sensitive topic of political donors and the White House. "But he made very astute political calculations that were in the best interest of the president's future."
Equally noticeable were the gay couples at ease enough at the state dinner for Mr. Cameron to walk hand in hand past the cameras set up for guest arrivals — an evolution in attitudes and etiquette that Mr. Bernard's friends partly credit to him.
White Gloves Not Needed [nyt]