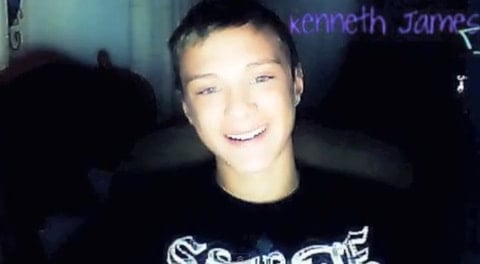 Kenneth Weishuhn, a freshman high school student in Paullina, Iowa took his life on Saturday a month after being rejected by friends after coming out of the closet at school, KTIV reports:
"People that were originally his friends, they kind of turned on him," said his sister Kayla Weishuhn. Teasing started in school, according Kayla, a sophomore. She says it was the boys in her class, that bullied her brother over his sexuality. "A lot of people, they either joined in or they were too scared to say anything," she said.
She says they took their teases online, to websites like Facebook, creating a hate group against gays and adding Kenneth's friends as members. However, it was only the beginning, family say he started receiving death threats from South O'Brien students on his phone.
"When I'd question him about the phone calls, like he just blew it off, so I just thought everything was ok," said his mother.
The Sioux City Journal adds:
"South O'Brien schools Superintendent Dan Moore would not elaborate about the case or talk about whether bullying played a role. "We have heard the allegations," he said. "We don't know for sure why Kenneth did this." Grief counselors were at the school Monday to help students, Moore said. He said they're taking the incident seriously. "Any time a students does something like this, it's a tragic loss and our whole community hurts because of it," said Moore, who called Kenneth Weishuhn "a good kid."
Watch KTIV's report on Kenneth's death, and a memorial video, AFTER THE JUMP…
Video may take some time to load…
A memorial made by friends and family: