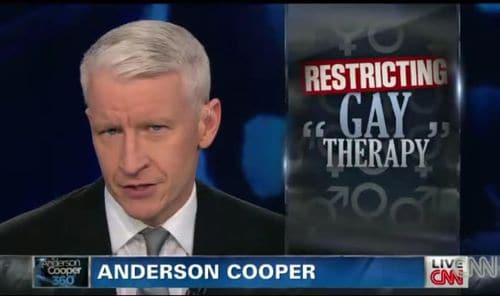 California's legislators, led by State Sen. Ted Lieu (D), are now contemplating a bill that would ban mental health professionals from performing "reparative" therapy on teenagers:
The controversial conversion therapy, sometimes also known as reparative therapy, attempts to change the sexual orientation of a person from homosexual (or bisexual) to heterosexual.

The bill would also require adults who submit to the therapy to sign a release saying they know what they're getting into.

"This therapy can be dangerous," Lieu said. He and supporters of the bill said conversion counseling is ineffective, can cause severe depression and guilt, and can even lead to suicide.
On his show last night, Anderson Cooper underlined the point by reacquainting his audience with the subject of last year's series, The Sissy Boy Experiment. That was the boy named Kirk Murphy, who became reparative therapy's posterchild after George Alan Rekers "treated" him in the early 70s, and who killed himself in 2003.
Watch AFTER THE JUMP …