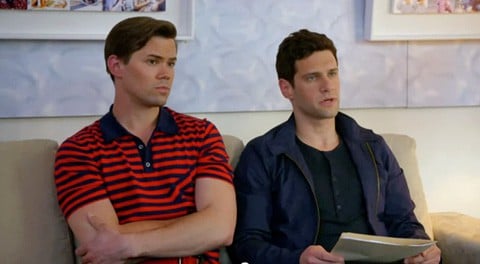 Andrew Rannells, star of Book of Mormon and the upcoming The New Normal, talks to Vulture about his role in the HBO series Girls, and talks candidly about his sexuality with regard to his Girls character Elijah, the gay ex-boyfriend of Girls character Hannah:
I am gay in real life, so I definitely get it. But it's not my story — I wasn't closeted for any amount of time. I never had a girlfriend who I had that experience with. It's less that Elijah knew he was gay and continued to date Hannah anyway and more that he wasn't ready to admit to himself that he was gay. I think that's probably the more common thing, particularly with young homosexuals. Coming out can be super super complicated, especially when it comes to families and friends —and if you already have a girlfriend, what does that mean for her? I hope that changes over time, but coming is very personal and everybody obviously has to do it in their own time. So, no, I don't think he did anything bad.
Vulture follows up by asking Rannells if he feels a special investment in gay characters he plays?
Well, there's a part of me that would say I treat every character in the same way — to be as honest as possible with every role. But then, as a gay man, I think there's a responsibility to show a fully realized person, so even though Elijah might not be the the best person in the world, I want to make him as fully fleshed out and human as possible. Because chances are he's gonna represent somebody who's a real person. With The New Normal, I feel even a larger responsibility because it's sort of a new idea for a lot of viewers and Americans, to see Justin Bartha and I play this very much in love couple who just wants to have a baby. We're telling that story for the first time, in a way, for a lot of people, so I think there's a lot of responsibility there.
Is this the first time that Rannells has spoken publicly about being gay, as our tipster tells me? Was there just another casual coming out? Some of you readers can no doubt point us to it if so.
Read the full interview here.