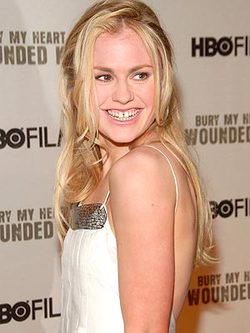 True Blood actress Anna Paquin caused a stir in 2010 when she came out as bisexual, and two years later the topic continues to fascinate. Well, it fascinated a Zooey magazine journalist who broached the subject during a recent chat with the 29-year old.
"I'm sure for some people saying they're bisexual feels less scary than making a statement that they're gay," Paquin, currently married to co-star Stephen Moyer, said about her sexuality.
"For me, it's not really an issue because I'm someone who believes being bisexual is actually a thing. It's not made up. It's not a lack of decision. It's not being greedy or numerous other ignorant things I've heard at this point."
Paquin went on: "For a bisexual, it's not about gender. That's not the deciding factor for who they're attracted to."
I would say that Paquin's advocacy on this topic is just as important as campaigning for same-sex equality. She's totally right: a lot of people dismiss bisexuality as a cop-out for people afraid to admit their they're gay. Paquin proves that, yes, actual bisexual people exist, and naysayers need to get over it.