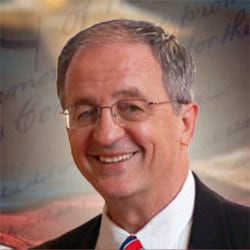 Delegate Robert G. Marshall, Virginia legislator, is one of those "straight" men who can't stop thinking about the gays. We drive him nuts. Last February he was trying to keep gays out of the VA National Guard; last June he was trying to keep the VA Fed from flying the rainbow flag. Earlier this month he was stomping all over Tracy Thorne-Begland, the Richmond attorney who was about to become a District Court judge. (Now Thorne-Begland will not be a judge.)
Last Thursday found Marshall addressing a gathering of Tea Partiers in his home-state. It was a campaign stop, more or less: Marshall's running for the United States Senate. There, Marshall elaborated on his gayhating, evincing some confusion over the meaning of the term "civil right." From the Richmond Times-Dispatch:
"If sodomy is a civil right, do we have to protect it? Do we have to fund it? Do we have to teach it? Do we have to encourage it? Do we have to facilitate it?" Marshall said in an interview Thursday after an appearance at a Charlottesville meeting of the Jefferson Area Tea Party. "It is not a civil right," he added.

Marshall also said that gay sex "cuts your life by about 20 years."
Later, Marshall appeared on CNN to further explain himself. From the Dispatch:
"Did you ever see water fountains in Virginia that say heterosexuals only? I didn't. Did you ever see statements that all the homosexuals are going to ride on one bus and heterosexuals on the other? No," Marshall said.

"It is an insult to suggest that the efforts of Dr. Martin Luther King and Rosa Parks are in any way parallel to the efforts to do things that have been criminal for most of this nation's history."