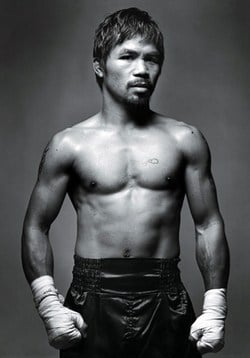 The television show Extra went ahead with their interview with Manny Pacquiao after the boxer said he was against gay marriage.
Though he does not support same-sex nuptials, an article in the National Conservative Examiner made it appear that Pacquiao quoted scripture to justify his politics. This caused massive outrage and ultimately led LA's The Grove, where Extra is taped, to ban Pacquiao. Thus, host Mario Lopez traveled to one of Pacquiao's homes, where the boxer apologized.
"To the gay community, I apologize," Pacquiao told Lopez. "I'm against same-sex marriage, but I'm not condemning you. My favorite verse is 'Love one another as you love yourself. Love your neighbor.' So I love everybody!"
The author of the original article also offers a statement of contrition: "I sincerely apologize for the confusion my column has caused. I certainly do not represent Pacquiao nor his team."