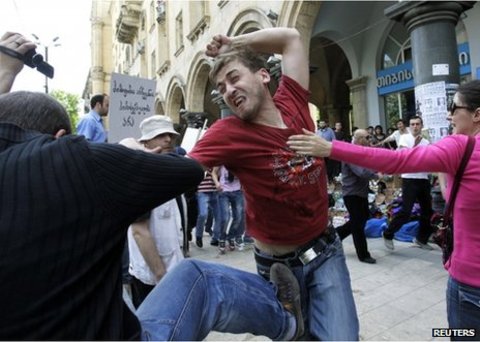 Protesters and gay activists alike were arrested after a brawl broke out during a Day Against Homophobia march in the former Soviet republic of Georgia. LGBT activists were marching from a concert hall to parliament in the nation's capital, Tbilisi, when a number of priests reportedly tried to stop them.
From the BBC:
Some [Orthodox Christian] priests approached nearby police officers asking them "to stop this indecency" but an officer responded that the police could not "ban them from [marching]", according to the Civil Georgia website.

"Then we have to do that," the priest reportedly replied.

When fighting began, the police stepped in and made arrests, both of protesters and marchers.

"This shows that Tbilisi has a long way to go to become a modern European city," Natia Gvianishvili of the gay rights group Identoba told AFP afterwards.
"We expected a negative reaction but did not expect to be attacked."
The U.S. Embassy in Tbilisi released a statement condemning the violence. "We believe that a modern democratic society that supports full implementation of universal human rights, needs to have a space in that society for people of every sexual orientation," said diplomatic officials. "Members of those communities should be able to express themselves in public in a peaceful way without suffering fear of retribution."
Georgian human rights official Giorgi Tugishi also came out against homophobia and its violent expressions, insisting that more political leaders need to admonish such behavior. "Only in this case it will become possible for our state and society to develop in a democratic and liberal direction," he said.