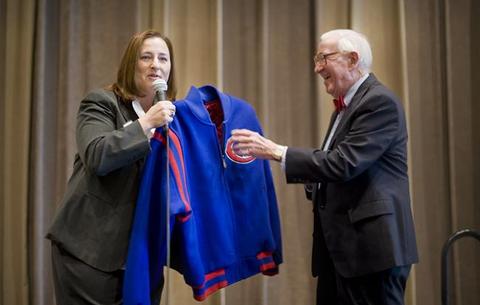 Here's an interesting update to the report that Cubs co-owner Joe Ricketts may use Jeremiah Wright to smear president Obama. Andy pointed out to me that Ricketts' daughter is another Cubs co-owner, Laura Ricketts, a Lambda Legal board member and the first openly gay owner of a major league baseball team.
Ms. Ricketts, seen above with former Supreme Court Justice John Stevens, also attended a $35,800-ticket D.C. fundraiser for President Obama in February. Family dinners in the Ricketts home must be quite the scene.
Meanwhile, the Obama campaign has released its own statement on the potential Wright campaign:
This morning's story revealed the appalling lengths to which Republican operatives and SuperPacs apparently are willing to go to tear down the President and elect Mitt Romney. The blueprint for a hate-filled, divisive campaign of character assassination speaks for itself.  

It also reflects how far the party has drifted in four short years since John McCain rejected these very tactics.  Once again, Governor Romney has fallen short of the standard that John McCain set, reacting tepidly in a moment that required moral leadership in standing up to the very extreme wing of his own party.