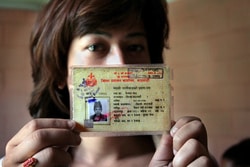 LGBT advocates here in the States aren't the only ones with something worth celebrating.
The AP reports that Argentina's Senate yesterday approved 55-0 a measure that will allow transgender people to change the gender on their ID and receive health care for potential sex change operations.
Any adult will now be able to officially change his or her gender, image and birth name without having to get approval from doctors or judges — and without having to undergo physical changes beforehand, as many U.S. jurisdictions require.
…
When Argentines want to change their bodies, health care companies will have to provide them with surgery or hormone therapy on demand. Such treatments will be included in the "Obligatory Medical Plan," which means both private and public providers will not be able to charge extra for the services.

"This law is going to enable many of us to have light, to come out of the darkness, to appear," said Sen. Osvaldo Lopez of Tierra del Fuego, the only openly gay national lawmaker in Argentina.
The bill will now head to President Cristina Fernández de Kirchner for the final signature.