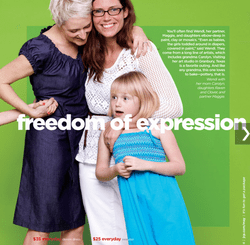 JC Penney garnered plenty of right-wing criticism last year for its decision to hire Ellen DeGeneres as a celebrity spokesperson. Then, earlier this month, those same conservatives — allied under the American Family Association's "One Million Moms" campaign — shook their collective fist at the retailer for including a lesbian couple and their children in a recent catalogue.
JC Penney, however, refuses to give up. Commercial Observer reports that JC Penney, about to open a new location in New York's Soho neighborhood, is standing by their LGBT support, and in doing so they celebrate lesbian mothers everywhere.
"As J.C. Penney focuses on becoming America's favorite store, we want to be a store for all Americans," a company spokesperson said. "In celebration of Mother's Day, we're proud that our May book honors women from diverse backgrounds who all share the heartwarming experiences of motherhood."
I haven't been to a JC Penney in years, but I'm thinking maybe I need to take a second look at the department store's wares.