Actress Joanna Johnson of The Bold and the Beautiful, who plays Karen Spencer, has come out of the closet, making her the only out star currently in TV soaps.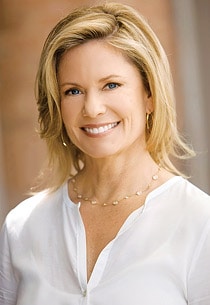 She tells TV Guide:
 Daytime is a whole different world than primetime or theater or film. There's a greater intimacy between the viewers and the characters. They think you are your character. And that creates a lot of fear. Fear of rejection. I was so worried I wouldn't be employable as an actress if people knew I was a lesbian. Or that I wouldn't be believable in romance stories. I had to deal with a lot of self-loathing…
…I'm married to [L.A. club promoter] Michelle Agnew and we have two beautiful children, Julian, who is five, and Harlow, who is two. And now we're finding out that Karen is married to this great lady Dani [Crystal Chappell] and together they have raised her daughter Caroline [Linsey Godfrey]. So times have certainly changed. I guess that's why I'm ready to open up. It feels weird and wrong to play this revelation about Karen's life and not talk about my own. I used to hang out with Ellen Degeneres, k.d. lang and Melissa Etheridge back in the day and thought it was so beautiful they were out, even though I didn't have the nerve. When I realized I was gay in my early twenties we didn't have role models like Ellen. I'm not anywhere near as famous as those ladies, but I guess it's my turn to do my little part. It's time to live a fully authentic life.
Read the full interview HERE.