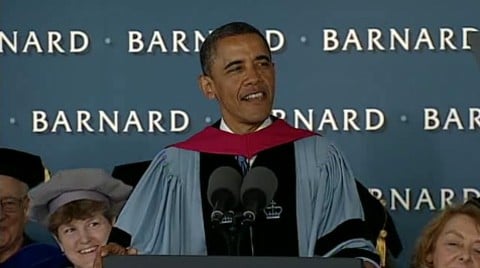 Obama is delivering Barnard College's commencement address at this hour, NY1 reports: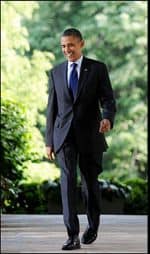 Arriving in the city late Monday morning, the president is slated to deliver the commencement address before 600 Barnard graduates at 1 p.m.
Obama called Barnard President Debora Spar on February 29 and requested to speak at the commencement. The original scheduled speaker, New York Times Executive Editor Jill Abramson, agreed to step aside to allow the president to headline the event.
While both Democrats and Republicans have recently debated on the campaign trail a women's right to choose and issues concerning working women, one of the scheduled student speakers at the commencement, Jessica Blank, told NY1 she hoped the president would also address the economy in his speech.
"You can't not talk about jobs. I think it's going to be interesting to see the balance I'm talking about, women's issues and jobs. I think they're both going to be prominently featured in his speech," said Blank. "But I think that coming to Barnard is a little bit different than whatever other colleges the president has spoken at in the past about jobs, because of this issue of women's leadership, and it's such a focus at Barnard, especially during the last four years."
The president is expected to receive a medal of distinction at the commencement.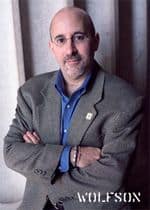 Also receiving the medal is Freedom to Marry Founder and President Evan Wolfson. The joint honor was planned well before last week's historic announcement from Obama.
Said Wolfson in a statement:
I am deeply moved to join with President Obama to celebrate the next generation of leaders coming up among Barnard women, and to share the Barnard Medal of Distinction with him. I will thank the President for doing what we elect presidents to do – showing moral leadership in standing up for freedom, fairness, and families – and for speaking in such personal terms about the journey he and so many Americans have made to understand who gay familes are and why marriage matters.
Later this afternoon Obama will attend an LGBT fundraiser:
After the commencement, Obama is heading to the Rubin Museum of Art in Chelsea for a $5,000-a-ticket fundraiser co-hosted by the LGBT Leadership Council and openly gay singer Ricky Martin.