Colorado House Speaker Frank McNulty is considering stalling the civil unions bill, currently waiting to be heard by the House Appropriations Committee, even though the votes are there in the House to pass it, the Denver Post reports: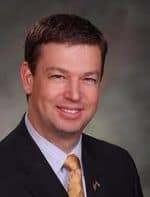 The Highlands Ranch Republican said leadership is under no obligation to bring the bill up for a debate after it gets out of the House Appropriations Committee, which will have the hearing tomorrow. The bill must have what is called a second reading, or its debate, before the full floor by Tuesday so it can be officially voted on Wednesday, which is the last day of the session. If that doesn't happen, the bill is dead.
McNulty says he is being lobbied heavily:
McNulty pointed out that last year the Democratic-controlled Senate let bills die on the calendar. "Understandably, this bill is a lot higher profile than bills that died last year," he said.
The Post spoke with former RNC Chair Ken Mehlman who is trying to convince McNulty to go ahead with it: "I care about the health of the Republican Party and blocking something the vast majority of voters support and that will undermine family values and undermine freedom seems to me to be both bad policy and bad politics."
Here's McNulty's info (via btb)
Twitter: @RepMcNulty
Email: fmcnulty@comcast.net and frank.mcnulty.house@state.co.us
Facebook: Frank McNulty
Phone: 303-866-2346
UPDATE: Civil union supporters are holding a rally at 10am tomorrow morning.
On Tuesday, May 8, supporters of the legislation will rally on the West Steps of the State Capitol and call for a full up-or-down vote in the House.
If we want civil unions to be debated in the House (where it has enough votes to pass), we need to show House leadership how widespread support for civil unions is — so please join us and WEAR RED to show your support!