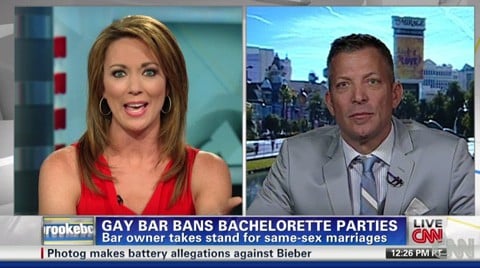 David Cooley, the owner of popular L.A. gay bar The Abbey, joined CNN's Brooke Baldwin over the weekend to discuss his decision to ban bachelorette parties, because they are offensive to gay people who can't get married.
Baldwin asks Cooley why that wouldn't be viewed as discrimination.
Said Cooley: "It's great to see my straight women coming in and celebrating with their girlfriends…As I kept seeing this, it was hurtful to me  being gay, as well as my clientele, that we could not have that same type of a celebration."
Watch, AFTER THE JUMP…