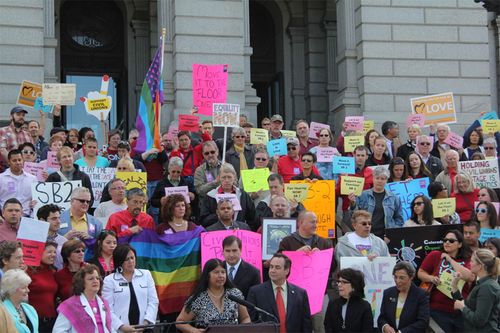 (photo ladd bosworth, one colorado)
Demonstrators at the Colorado capitol this morning demanded a House vote on the civil union bill, which Republican leadership is threatening to stall.
The bill is scheduled to be heard this afternoon by the House Appropriations Committee, and then head to the floor where GOP leadership will decide whether it will be called up for debate. If it is not heard today on the House floor, Senate Bill 2 is dead.
"All of Colorado is watching," said Sen. Pat Steadman, D-Denver, who sponsored the measure in the Senate.
Two Republicans spoke at the rally. Jack Findlaw, who is gay, is the legal counsel for Gov. John Hickenlooper. Mario Nicolais used to work for former GOP Congressman Marilyn Musgrave, and now is the spokesman for the pro-civil unions GOP group, Coloradans for Freedom.
Both urged passage of the bill.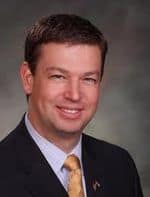 OutFront Colorado posted an interview with GOP House Speaker Frank McNulty, who has said he's "under no obligation" to bring up the bill, yesterday:
"McNulty told Out Front Colorado he thinks supporters of the bill should be upset at Democrats, not Republicans, if the bill ultimately dies because there isn't enough time to debate it.
McNulty's contact info is HERE.
Listen to the interview, AFTER THE JUMP…