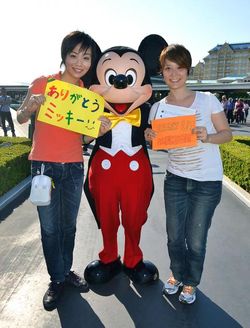 The Magic Kingdom just got a little more magic in Japan, the Taipei Times reports:
Tokyo Disneyland said this week it would allow gay couples to hold ceremonies on its grounds, although same-sex weddings have no legal status in Japan.
Disneyland's decision came to light after Koyuki Higashi, a 27-year-old woman, inquired about marrying her female partner, identified only as Hiroko, at the resort. Higashi was initially told she would be able to marry her partner provided they were dressed "like a man and a woman," she wrote on her blog. Staff at Disneyland, which attracts about 14 million visitors a year, were apparently concerned about how other visitors would react to the sight of couples both dressed in wedding dresses or tuxedos.
A spokeswoman for Milial Resort Hotels, a subsidiary of Tokyo Disney Resort, later said there had been a misunderstanding, telling Higashi and her partner they could dress how they pleased, although they would not be able to exchange vows in the chapel because of "Christian teachings."
The park is now accepting all applications for same-sex wedding ceremonies.