On last week's SiriusXM Derek and Romaine show, Romaine Patterson and Chopped host Ted Allen were discussing chef Anne Burrell, and talk turned to Burrell's sexuality.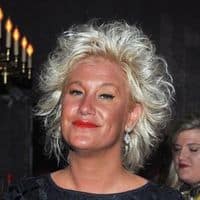 Said Patterson: "I also love it when Anne Burrell is on the show primarily because I have the biggest crush on her. Whether or not she's a lesbian, I don't care. She's my girl!"
Added Allen: "I'm not going to put a label on Anne, but she is dating a woman right now. She was really cool. You've got some competition."
Since Burrell has never discussed it publicly, the talk Allen and Patterson's discussion generated has now compelled her rep to release a statement, Page Six reports:
Burrell's rep told Page Six: "Anne doesn't feel she was outed. She has made no secret of her relationship. Her significant other is a very private woman. They have been together for a couple of years and spend a lot of time together. It is no secret in the culinary world."
Sources tell us Burrell's girlfriend is another top James Beard Award-winning chef. Sources also said Burrell — an instructor at New York's Institute of Culinary Education — appeared alarmed when she learned of Allen's comments while shooting her show
She was filming at Old Homestead Steakhouse in the Meatpacking District last Thursday, but bolted out — telling the production crew she had "a situation to deal with" and sped off on her bicycle, returning to the set the next day.