A Norwegian court is hearing testimony in the case of Anders Behring Breivik, who killed 69 people on Utoya island and eight more in an Oslo bombing last year: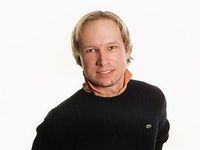 Two of the 33-year-old's friends gave evidence at the court in Oslo in which they described the right-wing extremist as obsessed with how he looked. Four friends were due to testify in the trial today and a statement from Breivik's mother, Wenche Behring, will also be read out.
One of the friends said he thought Breivik was depressed or was a closet homosexual after he moved back in with his mum in 2006, Dagbladet newspaper reported.
The witness said, "I think they had a more friendly relationship than a mother and son normally have."
The court also heard Breivik had nose surgery so he could have a more "Aryan" nose. Breivik claimed he had the surgery because he was attacked by a Pakistani man, but the former friends said they could not recall the attack. He also used powder on his face.
Previously…
Gay Conservative Bruce Bawer 'Stunned to Discover' That Oslo Killer Anders Breivik Cited His Islamophobic Writing [tlrd]