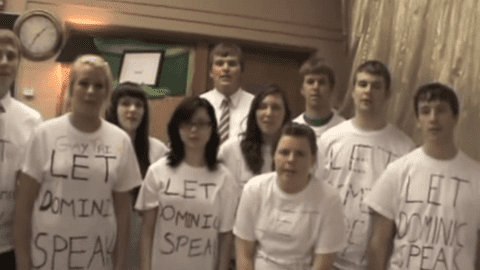 In what is an almost miraculous outpouring of support, a number of students at Sacred Heart Academy in Pleasant Hills, Michigan, have released a video supporting Dominic Sheahan-Stahl, the man disinvited from giving the Catholic school's commencement speech after announcing his engagement to another man.
On a related note, Sheahan-Stahl will be delivering a concurrent address at Central Michigan University to counter the homophobia he has faced.
"Through the outpouring of love and support that I've received from family, friends, Sacred Heart students and many people I've never even met, I've come to realize that a majority of Catholics support their LGBT brothers and sisters," he said. "I was always taught that God is love and I hope that that my brother and other students will come away from my speech with the knowledge that all people deserve to be treated equally."
According to GLAAD, Sheahan-Stahl also invited Joseph R. Cistone, the Catholic Bishop who helped spark his removal as graduation speaker, to hear his speech.
Watch the students' pro-equality message, AFTER THE JUMP…