Pastor Sean Harris of the Berean Baptist Church, who advised parents in a sermon to punch their sons if they seem "girlish" and "crack" their son's wrists if they seem "limp", has issued a non-apology for the video of his sermon which went viral yesterday: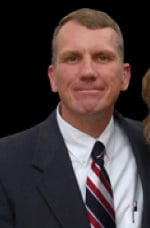 Sean Harris, pastor of Berean Baptist Church on Glensford Drive, said he does not advocate hitting children and wishes he could take back a remark encouraging fathers to punch boys who act effeminately.
But he defended his belief in the need to reinforce traditional gender roles in children.
"If I had to say it again, I would say it differently, no doubt," Harris said Tuesday. "Those weren't planned words, but what I do stand by is that the word of God makes it clear that effeminate behavior is ungodly. I'm not going to compromise on that."
More from the Fayetteville Observer:
From within the church, Harris said, "the response was, 'Pastor, we know you didn't mean that.'"
"We know when you're saying something seriously and when were supposed to just understand the intent and not the application,' "
Harris said. Harris said in the sermon that same-sex couples are free to live together. He argued Tuesday that there was "not an ounce of hate being communicated in that," but said in the sermon that such couples live together "in the most sick and ungodly way."
After listening to the sermon Tuesday, a divinity professor at Campbell University called it "one of the most disappointing and un-Christ-like diatribes I have ever heard."
Here's what Harris said, if you missed it:
"So your little son starts to act a little girlish when he is four years old and instead of squashing that like a cockroach and saying, 'Man up, son, get that dress off you and get outside and dig a ditch, because that is what boys do,' you get out the camera and you start taking pictures of Johnny acting like a female and then you upload it to YouTube and everybody laughs about it and the next thing you know, this dude, this kid is acting out childhood fantasies that should have been squashed….Can I make it any clearer? Dads, the second you see your son dropping the limp wrist, you walk over there and crack that wrist. Man up. Give him a good punch. Ok? You are not going to act like that. You were made by God to be a male and you are going to be a male."
Harris also advised parents to "reign in" girls who seem 'butch' with similar behavior.
Listen to his disgusting rant again, AFTER THE JUMP..
Previously…
NC Pastor Sean Harris Urges Parents to 'Punch' Their 'Girlish' Sons, Crack Their Limp Wrists: AUDIO [tlrd]