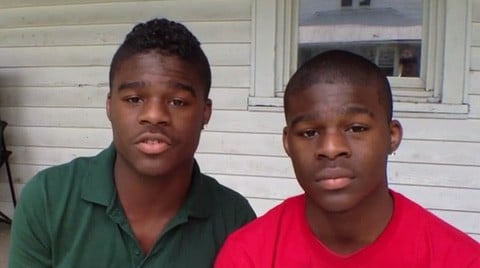 Last week I reported that Darnell "Dynasty" Young  (pictured, left, with twin brother Darell), a gay student at Tech High School in Indianapolis, was facing possible expulsion for carrying a stun gun his mother gave him to protect himself from a group of bullies who threw rocks at him and threatened to beat him up.
Young has now been expelled, MSNBC reports:
The district said it had accepted the decision of an examiner, who presided over Young's hearing last week, to expel him.
"While the district does not condone bullying, it also does not allow weapons to be brought on our school campuses for any reason. Students who violate this rule will be held accountable," Mary Louise Bewley, director of the district's Office of School and Community Relations, said in the e-mail statement.
When reached by phone on Tuesday, Young declined to comment. His mother, Chelisa Grimes, said she couldn't believe her son had been expelled.
For background, read our full post here.