Rev. Keith Ratliff Sr. of Maple Street Missionary Baptist Church in Des Moines, the President of the Iowa/Nebraska NAACP and a vocal anti-gay activistand Bob Vander Plaats supporter, says he may leave the organization after its endorsement of marriage equality and is "praying over the matter", the Des Moines Register reports: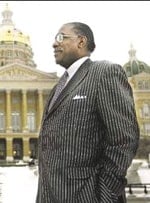 That position now places him at odds with the national NAACP board of directors, which voted on Saturday to support "marriage equality." Ratliff said he is one of the 64 members of that board, but was not present for the meeting in Florida and would have voted against the resolution had he been there.
"Marriage equality, for me, is between a man and a woman, period. There is no other definition for me," Ratliff said Tuesday.
In related news, Eugene Robinson at the Washington Post says the endorsement has made the organization more relevant:
The biggest immediate impact of the NAACP's move is to return a once-indispensable organization to center stage. The NAACP was the flagship of the civil rights movement, but in recent years — recent decades, to be honest — it seemed to lose its way.
Now, under Jealous, the NAACP has waded into the civil rights battle of today — and, in the process, reclaimed some of the organization's old prominence.