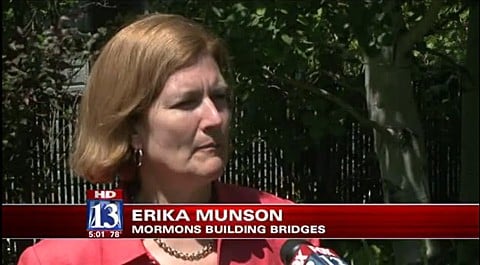 A group of straight Mormons will march in Salt Lake City's Gay Pride parade on Sunday, FOX 13 reports:
They call themselves "Mormons Building Bridges" and they are planning to march in this year's Pride parade. It is a move toward reconciliation between two communities that have had been at odds in the past.
"We are faithful, practicing Mormons who feel like it's time to reach out with love and understanding to the LGBT community," says group spokeswoman Erika Munson.
Munson has never been to a Pride parade before, but the devout Mormon is organizing more than 100 faithful LDS Church members in their Sunday best to march among the more colorful entries to show their love.
"We are following the greater commandment of Jesus, which is to love one another and love one another unconditionally, and we want to do that," says Munson.
Organizers of the parade have situated the group behind the grand marshal.
Watch Munson speak about the effort, AFTER THE JUMP…