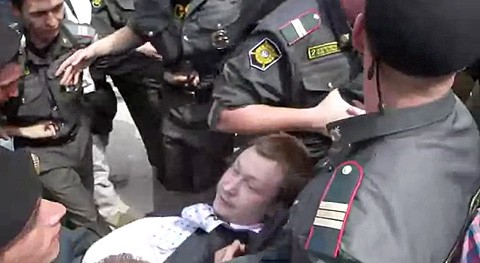 Videos of the detention of 40 people at Moscow Gay Pride rallies on Sunday show Orthodox activists getting violent, and police stepping in roughly to arrest people. The Pride assembly was banned by authorities for the seventh straight year, but activists and opponents showed up anyway.
The Guardian reports:
Some Orthodox activists attacked the protesters, throwing punches, grabbing their rainbow flags and trampling on them in front of television cameras. Skirmishes occurred at the protests outside the city hall and parliament. Neither rally was sanctioned by Moscow authorities. Almost all of the 30 gay rights protesters were detained, and many fewer of 50 or so Orthodox activists involved.
Wrote activist Nikolai Alekseev on his Facebook page:
Full video of my arrest at Moscow Pride, from the moment I come to the square up to the moment I am put in the police van. Full proof for the court that I did not breach any law.
Watch the video (first one, AFTER THE JUMP…)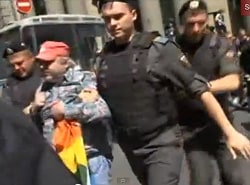 The AP reports:
The gay activists first gathered outside the city council building, where a few scuffles occurred as their opponents tried to disrupt the demonstration, decrying homosexuality as a sin. After police broke up that protest, another group tried to stage a second protest at city hall, but once again police moved in and detained participants, including prominent gay rights activist Nikolai Alexeyev.
The majority of those detained were gay activists, but some of the Christian demonstrators also were pushed into police buses. Police said about 40 people were detained in all.
Watch videos of the arrests and ugly scuffles, AFTER THE JUMP…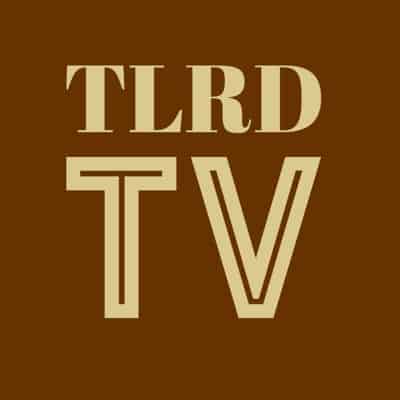 Raw AP video: