Responding to the recent passage of non-discrimination ordinances in Omaha and Lincoln, Nebraska's governor Dave Heineman says bias laws protecting gay, lesbian and transgender people should be put to a popular vote, the Journal Star reports: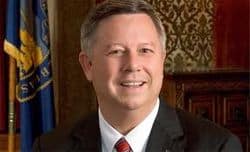 "I think in both cases … they should put it to the vote of the people," Heineman said during a Tuesday morning news conference, citing a recent attorney general's opinion that says the cities would have to amend their city charters to offer such protections to groups not covered by state law.
Supporters say protection is necessary because there is real discrimination. Twenty-seven percent of 770 Nebraskans participating in a 2011 online survey had experienced some form of discrimination in the workplace in the past five years because of their sexual orientation or gender identity, they said.
Lincoln passed its ordinance last week. "Pro-family" groups have vowed to take the measure to a voter referendum.