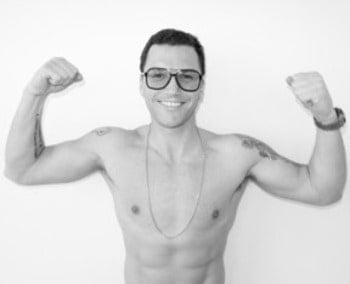 One Million Moms claims their boycott against JC Penney for their use of lesbian entertainer Ellen DeGeneres as a spokesperson has cost the department store $163 million. But the AP actually credits the store's new pricing system.

Hockey player and fashion icon Sean Avery flexes his pecs, and then some, for Terry Richardson.

Here's the teaser trailer for Anchorman 2.

A sickeningly fit New York man named Zachery has been named sexiest male vegetarian by PeTA. He deserves it.

Oh, baby… "Dozens of Roman Catholic dioceses, schools and other institutions sued the Obama administration Monday over a government mandate requiring most employers to provide birth control coverage as part of their employee health plans."

Zimbabwean Justice Minister Patrick Chinamasa insists his country does not abuse human rights, but also says they'll never give up their institutionalized hate of gays. "We made it clear that in our law homosexual activities are criminalized and that any person who commits homosexual activities will be arrested," he said.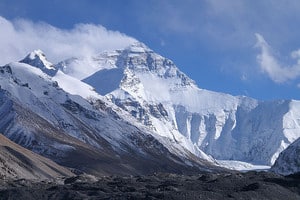 Did Marc Anthony get custody of Victoria and David Beckham in his divorce from J. Lo?

The New Yorker cartoon caption contest this week deserves your submission.

A curious explanation for why gay Virginia judicial nominee Tracy Thorne-Begland was rejected. It "wasn't" the Republican opposition.

Secretary of State Hillary Clinton is still uber-popular.

Rapper 50 Cent supports gay marriage: "I think everyone should be happy. I think a fool is going to go against same sex marriage at this point… I'm up for it. If everyone else is for it, then hey, to each his own. I don't have personal feelings towards it because I'm not involved in that lifestyle. I want people to be happy. It makes for everything to be better."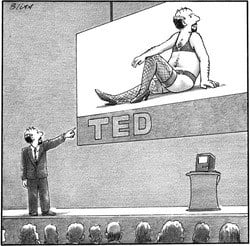 Obama spokesman Ben LaBolt on Cory Booker walking back his critique of the president's campaign's attack on Mitt Romney's past at Bain Capital: "These are his own views in the video. He made absolutely clear that the discussion of Mitt Romney's private sector tenure was legitimate… He released that video of his own volition. We did not ask him to do so."

Anyone who doubts Tilda Swinton can transform herself into legendary character Auntie Mame should take a look at this picture.

Three climbers are dead and two are missing after a Mount Everest climb went awry.

Stephen Colbert inspired an entire generation of college students to start their own super PACs. Democracy in action!

The new movie Joshua Tree, 1951: A Portrait of James Dean, takes a look at the iconic actor's alleged gay past. "I sometimes suspect the mainstream press still believes queer people were invented in the 1970s, and that before that, everybody was straight and chaste. Well, officially, they might have been — and studio publicists were tasked with maintaining the facade — but we know better," says director Matthew Mishory.

Sarah Palin recorded a call urging Texas residents to vote for Ted Cruz for U.S. Senate. The call ran in Kansas.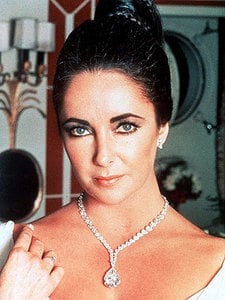 The Pan American Health Organization last week came out against so-called "gay cures." "Since homosexuality is not a disorder or a disease, it does not require a cure. There is no medical indication for changing sexual orientation," said PAHO Director Dr. Mirta Roses Periago.

Conservative commentator Michelle Malkin on the Manny Pacquiao controversy: "The gay-marriage mob is guilty — of the very ugly bigotry it claims to abhor. And left-wing media outlets are guilty — of stoking false narratives that shamelessly demonize religion in the name of compassion."

Lindsay Lohan has started fittings for her role as Elizabeth Taylor. Think she can pull it off?

Singer Nick Jonas took part in New York City's annual AIDS Walk.

Buenos Aires' city government just approved same-sex marriages for foreign nationals. Who's down for some Southern Hemisphere nuptials?

Dolly and Kenny, because why not?