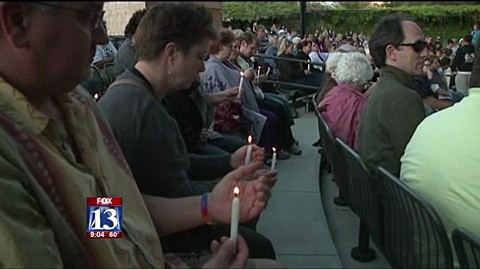 Approximately 100 members of the Ogden, Utah community, many of whom described themselves as straight, married, and Mormon, attended an anti-bullying vigil following the recent death of seventeen-year-old Jack Reese, who was bullied for being gay.
FOX13 reports:
One woman said she didn't know if any of her children were gay, but she would not care if they were — she would love them.
"I, in high school, I'm definitely guilty of using derogatory terms," said one man. "I wouldn't be caught dead doing that now. It's because I love you, and it's because I care."
On Tuesday, the Utah Pride Center announced the creation of an anti-bullying hotline for youth, parents and teachers who are dealing with the problem. Utah has no statewide anti-bullying laws or even a statewide educational policy, the center said, so it has counselors volunteering to operate a phone line.
The phone number is 801-580-7680.
Watch, AFTER THE JUMP…