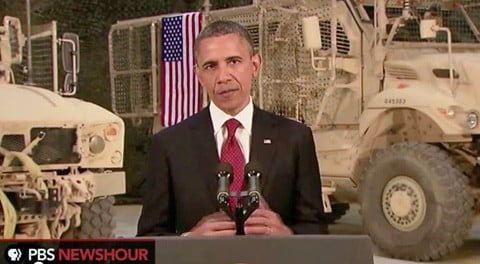 In case you missed the President's surprise drop-in to Afghanistan last night, where he outlined the U.S. military's role there past 2014 on the first anniversary of the death of Osama bin Laden.
Said Obama: "Our goal is to destroy al-Qaida, and we are on a path to do exactly that."
Watch, AFTER THE JUMP…
AP: "In the political realm, he and Vice President Joe Biden have marked the one-year anniversary of bin Laden's death by questioning whether Republican challenger Mitt Romney would have ordered the daring raid that penetrated the terrorist leader's Pakistan hide-out. Republicans are accusing the president of politicizing the event, and Romney is insisting that he would indeed have ordered U.S. forces into action."