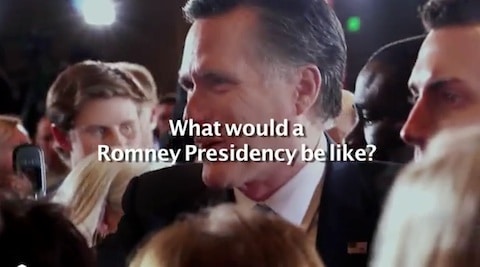 Approve the Keystone pipeline, introduce tax cuts and reforms, issues order to begin replacing Obamacare.
Whoopee!
Check it out, AFTER THE JUMP…
CNN reported Thursday, the campaign purchased at least $1.2 million of ad time in Ohio, North Carolina, Iowa and Virginia for broadcast time beginning Friday and running through Tuesday, according to a Republican ad buying source. The campaign also released a Spanish-language version of the ad.
On Thursday in Jacksonville, Florida, Romney told reporters the campaign would be entering the high stakes ad wars soon.
"I certainly hope that you'll get a chance to see our first ad that will come up in a couple of days. It will be a positive ad about the things that I will do if I am president," Romney said.