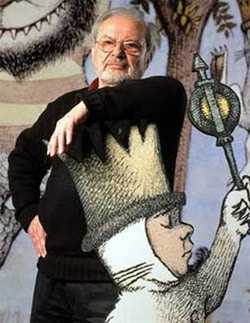 Maurice Sendak, the gay author of iconic children's books like Where the Wild Things Are and In the Night Kitchen, has died at 83.
The cause was complications from a recent stroke, said Michael di Capua, his longtime editor.
Sendak came out of the closet publicly in 2008 in an interview with the New York Times:
"Was there anything he had never been asked? He paused for a few moments and answered, 'Well, that I'm gay…I just didn't think it was anybody's business,' Mr. Sendak added. He lived with Eugene Glynn, a psychoanalyst, for 50 years before Dr. Glynn's death in May 2007. He never told his parents: 'All I wanted was to be straight so my parents could be happy. They never, never, never knew.' Children protect their parents, Mr. Sendak said. It was like the time he had a heart attack at 39. His mother was dying from cancer in the hospital, and he decided to keep the news to himself, something he now regrets. A gay artist in New York is not exactly uncommon, but Mr. Sendak said that the idea of a gay man writing children books would have hurt his career when he was in his 20s and 30s."
Sendak recently appeared in two genius interviews with Stephen Colbert. If you missed them, makes sure to take a look HERE and HERE.