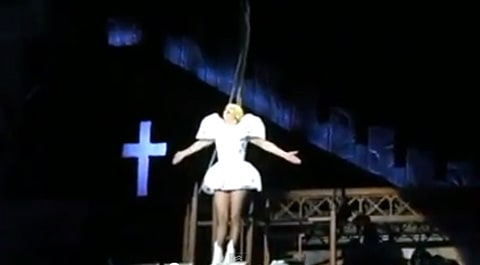 Shortly after singing "Jesus is my virtue" during "Judas", one of Lady Gaga's dancers smacked her in the head with a pole. She suffered a concussion but continued on with the show, Rolling Stone reports:
According to fan site Gagamedia.net, Gaga continued with the performance for another 16 songs. "I want to apologize," she told the crowd. "I did hit my head and I think I may have a concussion but don't you worry I will finish this show."
Lady Gaga's makeup artist later confirmed through Twitter that the singer was recovering:
"Gaga has a concussion but she is going to be okay.She wants u to know she loves u. I'm taking care of her.cant believe she finished the show."
Watch the incident, AFTER THE JUMP…