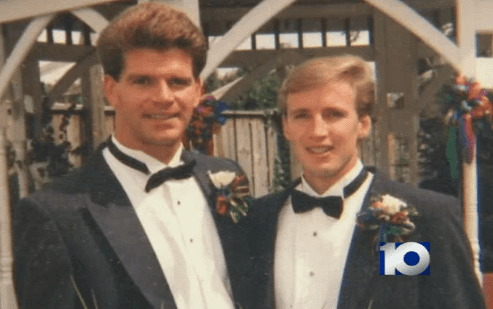 Like so many other places in the States, Ohio is currently embroiled in a fierce debate over marriage equality.
The Buckeye State banned same-sex nuptials with their own DOMA back in 2004. With other states and DC pass their own marriage laws, and President Obama endorsing equality, activists are now making a concerted effort to overturn that law and bring Ohio into the 21st century.
As part of their coverage of the ongoing battle, Columbus' WBNS-10 looked at two sides of the cultural divide. First up, David and Mark Cunningham, a gay couple who have been together for 20 years, have two children and are legally married in Connecticut. The rights bestowed there, of course, don't transfer across state lines, meaning the men are given the short end of the marriage stick. For example, if Mark dies, David doesn't get his pension.
On the other side, naturally, are conservative activists like National Organization for Marriage worker Jonathan Baker, who offers a familiar argument against Mark and David's union: "We believe the definition of marriage is important because it brings together two halves of humanity. It brings together a man and a woman, a mother and a father, that they are best suited to raise a child. We understand it doesn't always work out that way, but that is the best model."
While this all may sound rote to those of us who follow the LGBT scene, for many viewers in and around Columbus, it may all be new, and help give them some new insight into a debate that so often seems reserved for the coasts. And it can remind people on the coasts that there are countless LGBT people in the middle of the country who need support, too.
Watch WBNS-10's report AFTER THE JUMP.