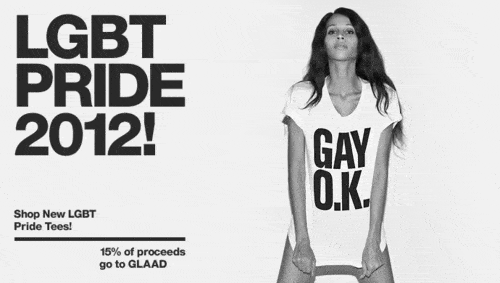 Trans model Isis King, a former contestant on America's Next Top Model, is featured in a new Pride line of t-shirts from American Apparel. King is the brand's first transgender model, according to GLAAD, which the campaign benefits:
American Apparel employees will also join GLAAD staff in LGBT Pride marches across the country, including in Los Angeles, New York, and San Francisco. Participants will each receive an AA tee, courtesy of American Apparel.
"We're super proud to support LGBT Pride again this year and partner with GLAAD in these events. It's time for everyone, regardless of sexual orientation or gender identity, to accept each other and thrive in harmony. We hope everyone comes out and joins us," said Marsha Brady, a creative director for American Apparel.
"American Apparel is showing bold leadership by being among just a few companies to include transgender people in its national ads," said GLAAD President Herndon Graddick. "Additionally, the company's statement that 'Gay is OK' will reach millions and send an important message in support of equality."