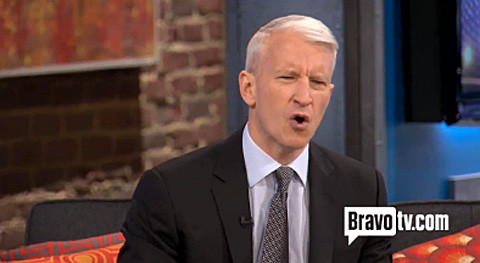 Anderson Cooper made an appearance on Kathy Griffin's Bravo talk show last night and talked, among other things, about how he's"lately, become emboldened" to confront people, in particular a man who was seated in front of him on a plane this week, who was trying to surreptitiously take his photo.
So he grabbed the man on the shoulder and said, "Bitch, what the f**k are you doing?"
No word, however, on the reaction of Johnny Weir, who was seated next to him on the plane.
Watch that clip, and one more, AFTER THE JUMP…
If the above video isn't playing, watch it HERE.
Anderson's beauty regimen: