The AP is trumpeting an Associated Press-GfK same-sex marriage survey released today as a referendum on Obama's endorsement: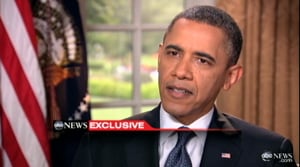 The poll found that 42 percent of Americans oppose gay marriage, 40 percent support it and 15 percent are neutral. Last August, the country was similarly divided over whether same-sex couples should be allowed to be legally married in their state, with 45 percent opposing, 42 percent favoring and 10 percent neutral.
They say Obama's endorsement may have had an effect on core supporters, however:
More young people, liberals and Democrats say they strongly approve of Obama's handling of same-sex marriage than said they did before he disclosed his new position last month.The country's divisions — and conflictions — are clear in the voices of Americans.
Full poll data, AFTER THE JUMP…