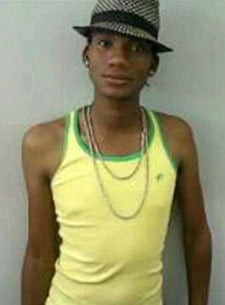 Andy earlier this month shared the distressing news that Thapelo Makutle, a 24-year old South African, was beheaded by then-unknown assailants for being gay and trans-identifying.
Via Mamba Online comes news that a 22-year old named Sizwe Jajini was arrested for the murder and subsequently confessed.
Colonel Bosman of the Mothibistad Police told Mambaonline that 22-year-old Sizwe Jajini was arrested on Sunday for the murder.

He appeared in the Mothibistad Magistrate's Court on Tuesday morning where he confessed to the murder. He is expected to appear in court again on 3 July.

Bosman said that she had no information as to a possible motive. Initial reports suggested that two men were involved in the attack but she said that as the investigation is still ongoing "we can't say if there are more suspects or not".
Shaine Griqua, director of the LGBT group LEGBO Cape, said the Makutle's brutal death should "highlight the need for more resources and structures to support LGBTI people in under-developed areas such as the Northern Cape."