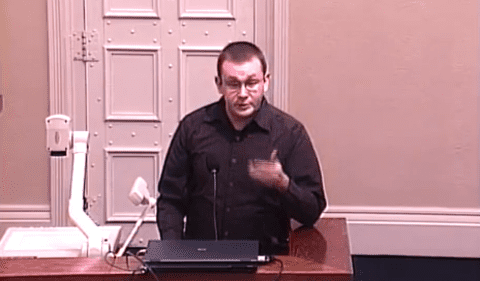 Jeff Gerard has some serious gumption.
The California man last month appeared at a meeting of the Sutter County Supervisors to blast board members for their past anti-gay politics, including supporting Proposition 8 and pressuring a county clerk to stop issuing marriage licenses to gay couples during that brief period when same-sex nuptials were legal in the Golden State.
Here's the video's YouTube description:
Jeff 4 Justice addresses the anti-LGBT actions of Sutter Country Supervisors James Gallagher and Stan Cleveland.

Jeff explains how lowly they are if they need their marriages protected because of gays having the same right to legally marry as them; he calls out Gallagher for revealing his sexuality in his county biography while trying to stop SB48; and he calls them out for trying to get their country clerk to not issue marriage licenses to gay couples when they were allowed to wed for a few months back in 2008 in California.
Gerard also calls out Gallagher for once saying, "There's no fundamental right for the state to recognize relationships," a quote the activist says resembles Ron Paul's libertarian politics. "If you believe that, I hope you would be more of an advocate of getting government out of marriage as opposed to saying a certain portion of gay people can't participate in marriage."
You can check out more of Gerard's work here and you should also watch the video AFTER THE JUMP…