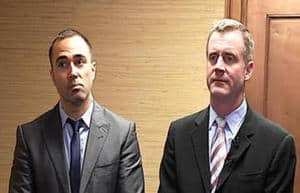 A few days ago I posted about Will Trinkle and Juan Granados, a gay Virginia couple denied membership to the Roanoke Athletic Club because of their sexuality.
In response to that story, Mark Lynn Ferguson has started a change.org petition urging the club's corporate owner, Carilion Clinic, which is also the largest health care provider in the state, to grant Trinkle, Granados and their son access to the club.
From the petition:
Who denies a 2-year-old access to a pool on a hot day?

Apparently, Carilion Clinic does. On May 15, Will Trinkle, a real estate agent in Roanoke, Virginia, applied for membership at the Roanoke Athletic Club, a gym that is owned by the regional medical provider Carilion Clinic. He and his partner Juan Granados wanted to take their 2-yeard-old son Oliver Trinkle-Granados to the gym's outdoor pool during the summer months.

Only children on family memberships are allowed to use the pool, so Trinkle signed up for a family plan. His application was accepted and processed, clearly listing him, his same sex partner, and their child as members.

Nine days later, a representative from the gym contacted Trinkle and told him that his application was processed by mistake. According to Trinkle, the representative said that the company was "'tightening policies' so no families like us would ever 'get as far' as we had." The representative went on to claim that Roanoke Athletic Club is following Virginia state law, which does not recognize same sex marriage.
To support this petition, and in turn a family headed by a same-sex couple, click HERE.