Cher is beginning to reveal plans, via Twitter, about a musical she is developing for Broadway about her life, according to the Hollywood Reporter: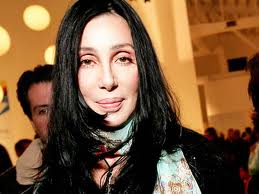 The Burlesque star explained that the show would feature three important stages in her life: the first before meeting future husband Sonny Bono through the couple's Sonny & Cher days; another after her split from Bono through her comeback Believe tour; and current day, which includes recording new music and a potential fall tour. According to the singer, the show would feature her original music.
"I hope it happens!" Cher added of the project. "It's a VERY SLOW PROCESS! Been working on it quite a while now."
As for whether the show would be a starring vehicle for the 66-year-old, Cher jokes that she may play "old Cher."
"She's wise n tells 2 young 1's not 2 fear future," she wrote.