CNN today released the results of a new poll which reveals a sharp trend in pro-gay American attitudes: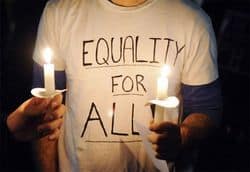 A CNN/ORC International survey released Wednesday also indicates that the number of Americans who say they have a close friend or family member who is gay has jumped from 49% in 2010 to 60% today, the first time in CNN polling that a majority of Americans have said that. In the 1990s, most Americans said they did not know anyone close to them who was gay.
"Attitudes toward sexual orientation have also changed over that same time period," says CNN Polling Director Keating Holland. "In 1998, a majority believed that someone who is gay or lesbian could change their sexual orientation if they choose to do so. Today, only a third feel that way, and the number who say that gays and lesbians cannot change their orientation is almost six in ten. Those shifts probably explain the growing acceptance of same-sex marriage."
According to the survey, 54% now say that marriages between gay and lesbian couples should be recognized as valid by law, with 42% opposed. Sentiment is strong on both sides of the debate, with more than three-quarters of supporters and opponents of same-sex marriage saying that they feel strongly about that issue.
The poll also indicates strong partisan and generational divides, along the lines of what you would expect.
Full results HERE.